2021
Jonathan Rudin
Jonathan Rudin received his LL.B. and LL.M. from Osgoode Hall Law School in Toronto. In 1990 he was hired to establish Aboriginal Legal Services and has been with ALS ever since. Currently he is the Program Director.
Mr. Rudin has represented ALS as an intervener at the Supreme Court of Canada 12 times. He has often appeared before the Ontario Court of Appeal and before Courts of Appeal in Quebec, Nunavut, Saskatchewan and British Columbia.
At ALS he helped establish the Community Council – the first urban Aboriginal justice program in Canada in 1992, and in 2001 helped establish the Gladue (Aboriginal Persons) Court at the Old City Hall Courts in Toronto.
Mr. Rudin has written and spoken widely on issues of Indigenous justice. His book, Indigenous People and the Criminal Justice System was released by Emond Publishing in 2018 and won the Walter Owen Book Prize from the Canadian Foundation for Legal Research in 2019. A second edition of the book will be published in 2022.
Mr. Rudin also teaches on a part-time basis in the Masters of Law program at Osgoode Hall Law School. Last but not least, he plays the mandolin and sings with Gordon's Acoustic Living Room, a group that plays regularly in Toronto and has a number of videos on YouTube.
2020
Nader Hasan
Nader is a partner at Stockwood Barristers in Toronto. He practises criminal, regulatory and constitutional law at the trial and appellate levels. He has an expertise in digital privacy law and search and seizure law, and has appeared in many of the leading cases in this area.
Nader has been recognized by Best Lawyers magazine as one of Canada's leading appellate lawyers.  He has appeared in 20 cases at the Supreme Court of Canada, including as lead counsel to the successful appellants in Clyde River v. Petroleum Geo‑Services Inc., 2017 SCC 40, a landmark Indigenous rights decision.
Nader is a veteran Adjunct Professor of law at the University of Toronto, Faculty of Law, where he has taught the Law of Evidence and currently teaches a popular class on crime and punishment. He also serves on the Advisory Board of the David Asper Centre for Constitutional Rights. He is a co-author of Sentencing, 9th edition (LexisNexis, 2017), a co-author and co-editor of Digital Privacy: Criminal, Civil and Regulatory Litigation (LexisNexis, 2018), a co-author of a forthcoming book on Search and Seizure (Emond Publishing), and author of numerous articles on criminal and constitutional law.
Nader brings a cross-border perspective to his practice. He previously practised with a leading litigation firm in New York, appearing in both New York State and U.S. federal courts.  Today, he regularly advises Canadian citizens in relation to criminal and regulatory issues with a multi-jurisdictional dimension, and regularly advises Canadians detained abroad.
Nader acts regularly for clients seeking to vindicate their constitutional rights in high-profile cases.  He has acted for the wrongfully convicted and asylum seekers.  He acts for Indigenous groups and environmental NGOs in environmental and constitutional cases.  He also acts for civil liberties groups, including the Criminal Lawyers' Association (CLA), the British Columbia Civil Liberties Association (BCCLA), and the David Asper Centre for Constitutional Rights.
Nader is a graduate of Harvard University (B.A.), the University of Cambridge (M.Phil), and the University of Toronto, Faculty of Law (J.D.).  Upon graduation from law school, Nader clerked for the Honourable Marshall Rothstein of the Supreme Court of Canada.
2018
Susan Ursel
Susan Ursel is a senior partner with the law firm of Ursel Phillips Fellows Hopkinson LLP. An experienced litigator, her work includes both arbitration/trial level and appellate advocacy. Susan practices in the areas of labour, employment, pay equity, employment equity and human rights law, as well as pensions and benefits law. She has practiced at all court levels including the Supreme Court of Canada, as well as extensively before labour boards, human rights tribunals and arbitration boards.
Ms. Ursel was senior counsel to the Ontario Secondary School Teachers' Federation in its successful Charter Challenge to Bill 115, an act which imposed collective agreements upon education sector unions in 2012. She has represented the Canadian Bar Association in its intervention in the Trinity Western University v. Law Society of Upper Canada case in the Ontario Court of Appeal. The Court affirmed the Law Society's decision to deny accreditation to TWU's proposed law school on the basis of discrimination against the LGBT community. This case has been appealed by TWU to the Supreme Court of Canada and a decision is pending.
As ground breaking counsel seeking progressive legal change for her clients, she has appeared in the Supreme Court of Canada on such precedent-setting Charter cases as Egan and Nesbitt, the first Supreme Court decision to deal with the equality rights of gay men and lesbians; the Trinity Western case which dealt with the issues of LGBT rights and the appropriate training of teachers; and the Chamberlain case, which dealt with the educational rights of children in gay and lesbian families.
More recently, Ms. Ursel has represented members of the transsexual/transgender communities, helping to establish essential precedents in such human rights cases as Hogan (dealing with the full availability of public health care for the trans community) and XY v. Ontario (dealing with the issue of gender identification on birth certificates).
Her work in the human rights field stretches back more than two decades. She has acted as complainant's counsel in a number of important human rights cases in Ontario, including the Hamilton Gay Pride Day case, the Sims case which dealt with employment rights of gay men and lesbians, and the Thornton case which asserted the employment rights of persons with HIV/AIDS.
2017
The Honourable Breese Davies
(In 2018, appointed as a judge of the Ontario Superior Court of Justice)
Breese Davies received her B.A., M.A. (Criminology) and LL.B. degrees from the University of Toronto. She practices criminal, constitutional and administrative law at both the trial and appellate levels. She started her legal career as an associate with Ruby & Edwardh and was a partner at Di Luca Copeland Davies LLP for 4 years. Breese now has her own firm in Toronto and she practices in association with Cavalluzzo Shilton McIntyre Cornish LLP. Breese also prosecutes for the College of Physicians and Surgeons of Ontario.
Breese is the recipient of the 2017 Laura Legge Award presented by the Law Society of Upper Canada to a female lawyer who exemplifies leadership in the profession.
Breese has been involved in counsel in a number of constitutional cases. She was involved in two of the constitutional challenges to the definition of terrorist act in s. 83.01 of the Criminal Code (United States v. Nadarajah, 2012 SCC 70 and R. v. Ahmad, [2009] O.J. No. 6151) as well as the challenge to the regime for adjudicating national security privilege in s. 38 of the Canada Evidence Act (R. v. Ahmad, 2011 SCC 6). Breese has also intervened in a number of constitutional cases, most recently for the Criminal Lawyers's Association in Trinity Western University v. Law Society of Upper Canada and Harkat v. Canada (Citizenship and Immigration).
Breese was involved in the Inquiry into the Actions of Canadian Officials in relation to Maher Arar, the Internal Inquiry into the Actions of Canadian Officials in relation to Abdullah Almalki, Ahmad Abou-Elmaati and Muayyed Nureddin and the Inquiry into Pediatric Forensic Pathology in Ontario. She was counsel for the Canadian Association of Elizabeth Fry Societies at the Inquest into the Death of Ashley Smith.
Breese was a Vice President of the Criminal Lawyers Association. She was an adjunct professor of Criminology at the University of Toronto and at Osgoode Hall Law School. Breese was the former editor of For the Defence magazine published by the Criminal Lawyers Association. Breese has also done volunteer legal work in Nigeria through Avocats sans frontiers Canada.
2016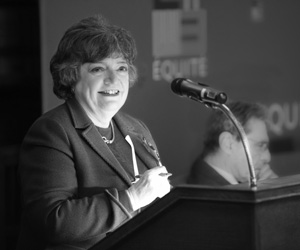 Janet Minor
Called to the Bar in 1975, Minor holds an LLB from the University of Toronto and an LLM from Osgoode Hall Law School. She has worked in public law since 1977, and up until her election as Treasurer in 2014, was general counsel in the Constitutional Law Branch of Ontario's Ministry of the Attorney General.
She has argued many significant cases on behalf of Ontario at all levels of court in Ontario, and at the Supreme Court of Canada. She has been a frequent speaker and participated in education programs on public law and an Adjunct Professor at both the University of Toronto, Faculty of Law and Osgoode Hall Law School.
Minor is a founding director of the Association of Law Officers of the Crown (ALOC), past director of The Advocates' Society, and has served on the boards of the Law Foundation of Ontario and the Ontario Justice Education Network.
She was first elected as a bencher of the Law Society in 2001, then re-elected in 2006 and 2011. She was elected to the position of Treasurer of The Law Society of Upper Canada from 2014 – 2016. She was the 4th woman to hold that position and the first Treasurer from the public sector.
She has received the Women's Law Association President's Award (2003), the Ontario Bar Association's Tom Marshall Award (2010), the ALOC Carol Creighton Award for Contribution to Public Law (2013), and a Zenith Award celebrating leading women lawyers from Lexpert (2013).
2015
Raj Anand
Raj Anand is a partner and an arbitrator and mediator with WeirFoulds LLP. His practice includes the areas of administrative, human rights, constitutional and employment law, civil litigation, professional negligence and regulation.
In his third term as an elected Bencher of the Law Society, he is currently the Vice-Chair of the Law Society Tribunal's Hearing Division. He was a member of task forces or working groups on admission requirements, articling, good character, Law Society governance and Tribunal reform. He was Vice Chair of the Equity and Aboriginal Issues Committee for five years, and is currently Co-Chair of the Working Group on Challenges faced by Racialized Lawyers and Paralegals in Ontario and Chair of the Three Year Review of the Tribunal reforms.
Raj graduated from the University of Toronto Faculty of Law with the Dean's Key in 1978. He has served as President of the U of T Law Alumni Council, the Minority Advocacy and Rights Council, the International Commission of Jurists Canada, and Pro Bono Law Ontario; Co-Chair of the U of T Tribunal; and board member of the Advocates' Society, Legal Aid Ontario, the Law Commission of Ontario, the Centre for Addiction and Mental Health, Justice for Children and Youth, and the Income Security Advocacy Centre. Raj was Chief Commissioner of the Human Rights Commission in 1988-89, Board of Inquiry from 1989-94, and founding Chair of the Human Rights Legal Support Centre in 2008-10.
Raj has taught "The New Administrative Law" at the masters level, and "Legal Ethics: Legal Values" and "Diversity and the Legal Profession" at the JD level. He was the first recipient of the Advocates' Society Award of Justice in 1997, and has since received the Law Society Medal, the Professional Man of the Year award of the Indo-Canada Chamber of Commerce, and the South Asian Bar Association's Distinguished Career Award. In 2013, he was an inaugural Roy McMurtry Visiting Clinical Fellow at Osgoode Hall Law School.
2014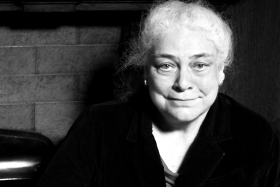 Mary Eberts
Mary Eberts received her legal education at Western and the Harvard Law School, and is a member of the Bar of Ontario. She joined a Bay St. law firm after several years of teaching at the Faculty of Law, University of Toronto, and was a partner at that firm until opening a small firm specializing in Charter and public law litigation. From this base in Toronto, she has appeared as counsel to parties and interveners in the Supreme Court of Canada, Courts of Appeal and Superior Courts in Ontario and other provinces, the Federal Court and Court of Appeal, and before administrative tribunals and inquests in Ontario and other provinces. She was active in securing the present language of section 15 of the Charter, and was one of the founders of the Women's Legal Education and Action Fund (LEAF). Since 1991, she has been litigation counsel to the Native Women's Association of Canada (NWAC). Mary held the Gordon Henderson Chair in Human Rights at the University of Ottawa in 2004-2005 and the Ariel Sallows Chair in Human Rights at the College of Law, University of Saskachewan in 2011 and 2012, where she taught courses in test case litigation. Recognition of her work includes the Law Society Medal, the Governor-General's Award in Honour of the Persons' Case, the Queen's Diamond Jubilee Medal and several honourary degrees.
2013
The Honourable John Norris
John Norris was appointed a judge of the Federal Court in March 2018. He previously worked as a practicing lawyer in Toronto. He received a B.A. (Honours Philosophy) from Carleton University and an M.A. (Philosophy) from the University of Western Ontario. He received his LL.B. from the University of Toronto in 1991 and was called to the Bar of Ontario in 1993. Since then he has maintained a trial and appellate practice in the areas of criminal, constitutional and national security law. He is an adjunct member of the Faculty of Law, University of Toronto, where he has taught Advanced Criminal Law, Evidence Law, Advanced Evidence and Legal Ethics, and of Osgoode Hall Law School, where he has taught in the part-time LL.M. Program in Criminal Law. He is the author of several scholarly articles, an Assistant Editor of the Canadian Rights Reporter and a frequent contributor to continuing legal education programs. He acts regularly on interventions by public interest groups in appeals before the Supreme Court of Canada. He is a past member of the Board of Directors of Canadian Journalists for Free Expression. In 2008, he was appointed by the Minister of Justice to the roster of Special Advocates for security certificate proceedings under the Immigration and Refugee Protection Act. In 2011, he received the Catzman Award for Professionalism and Civility.
2012
Joseph Arvay
Our inaugural Constitutional Litigator in Residence was Joseph Arvay (March 18, 1949 – December 7, 2020). He co-founded the firm of Arvay Finlay Barristers in 1990 with offices in Vancouver and Victoria and was recognized as one of this country's most highly respected lawyers. His legal practice emphasized constitutional and administrative law matters, and he was also involved in many Aboriginal rights litigation cases, medical malpractice cases, class actions, commercial litigation and defamation. He was counsel in a number of important Supreme Court of Canada cases including Andrews v. Law Society, Delgamuukw v. British Columbia, and Egan and Nesbit v. Canada.
His exceptional commitment to human rights in this country has been recognized with numerous awards including the Walter S. Tarnopolsky Human Rights Award in 2000, the Reg Robson Award from the British Columbia Civil Liberties Association in 2005, the Trial Lawyers Association of British Columbia Bar Award in 2009, and the British Columbia Civil Liberties Association's inaugural Liberty award. He was named as one of the top 100 best lawyers in Canada in a publication of the same name for the last three years. Arvay, who was a Fellow of the Litigation Counsel of America, was also recognized by Canadian Lawyer Magazine, in 2010 and again in 2011, as one of the top 25 most influential lawyers in Canada.